Certificates
Approved and Certified across the globe
FDA & CE
Medical Grade
Fully compliant with all FDA guidelines, the EDMA line of Nitrile Safe nitrile gloves surpass industry standards.
Our gloves help protect against the spread of germs, diseases, and viruses and provide advanced protection from hazardous chemicals and bodily fluids.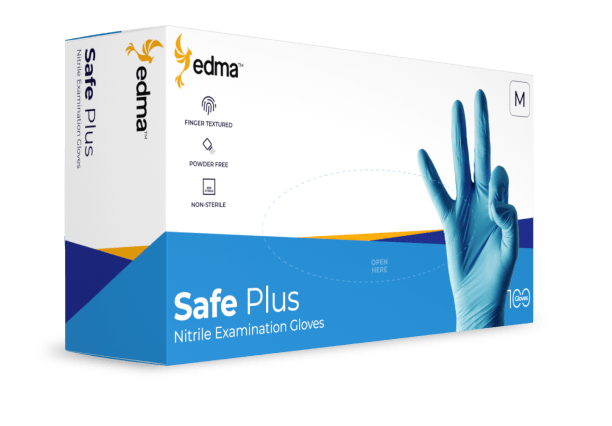 Synthetic nitrile powder free examination gloves tested for use with chemotherapy drugs.
Protective equipment
Personal protective equipment certification.
Quality management system certification
EN ISO 13485:2016, EN ISO 9001:2015, EN ISO 14971:2019, IEC 62366-1:2015(en), EN ISO 15223-1:2016, EN 455-1:2000, EN 455-2:2015, EN 455-3:2015, EN 16523-1:2015+A1:2018, EN ISO 374-1:2016+A1:2018, EN 420:2003+A1:2009, EN 374-2:2014, EN ISO 374-4:2019, EN ISO 374-5:2016, EN 1186:2020
ASTM D6319
Nitrile powder free examination gloves Latex powder free examination gloves.
ASTM D6978-05
Standard Practice for Assessment of Resistance of Medical Gloves to Permeation by Chemotherapy Drugs.
ASTM F1671
Standard Test Method for Resistance of Materials Used in Protective Clothingto Penetration by Blood-Borne Pathogens.
Expert Advice
Our experts are here to help with your first order.
Supply Chain & Distribution